You have an event to go to next week. It may well have been in your diary for the last six months, but somehow these things just seem to creep up on you, and now you have 7 days to organise everything. Finding a red carpet‐worthy dress and the perfect heels might be high on your list of priorities, but adding skin prep to that list is an important step that many people overlook. If you need some help on how to prep your skin for a big event, here are some top tips:
Make use of AHAs
If your skin is looking a little dull, and you want to brighten it up in time for a big event, then alpha hydroxy acids (or AHAs) could be your ingredient of choice. Glycolic acid is one of the more commonly‐found AHAs in skincare products. By exfoliating the top layers of dead skin cells, glycolic acid helps to reveal newer, healthier‐looking skin. Incorporate AHAs into your skincare routine with a face wash, mask or scrub.
Try out BHAs
If your skin concerns are more about blackheads than brightness, then give beta hydroxy acids (BHAs) a try. Look for cleansers, toners, or scrubs that contain salicylic acid. This ingredient, a BHA, gets down into your pores, cutting through oil and reducing clogging. With antibacterial and anti‐inflammatory properties, salicylic acid is an option if you have blemish-prone skin and want to look clearer and fresher for a big event.
Treat yourself to a face mask
Face masks might feel luxurious, but they're actually an important part of your skincare routine. Pick out a face mask that targets your specific skin concern. If detoxing your skin is a priority, opt for a clay mask that helps to draw out trapped dirt, oil and makeup residue. Or, if hydrating your skin is your main concern, try a hydrogel mask. Whether you're looking to smooth fine lines, purify your skin, or get a glowing, radiant complexion, there's a mask for you.
Take control of your spots
If you suffer from occasional spots, then you probably feel like you've tried everything to treat them. An option you may not have given a go yet is light therapy. Ideally, you should start this treatment in advance, to give your skin the best possible chance of clearing before a big event. However, the Neutrogena® Visibly Clear® Light Therapy Targeted Acne Spot Treatment is an on‐the‐go treatment that has been clinically proven to treat spots fast.
Don't forget your body
It probably won't just be your face on show at your big event. If you don't want your cracked heels taking centre stage instead of your strappy sandals, try out a foot cream specifically designed to intensely repair feet. The same goes for chapped hands… Just throw some hand cream in your bag for instant relief and protection. And lastly, keep your legs and arms looking soft and smooth with a body balm containing the super hydrator, Hyaluronic acid.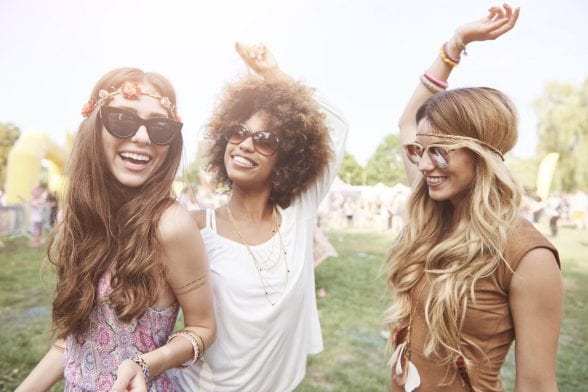 Living in a tent doesn't mean your skincare has to suffer. Here's how to look after your skin at a festival...