Life can be stressful. Between trying to work 5 days a week, exercise daily, eat healthily, maintain a social life, keep your house clean and tidy, and stay in touch with your family, it can be easy to feel completely overwhelmed. The best way to combat this feeling is by taking time out for some occasional self‐care. And as we all know, there's no better form of self‐care than a pamper night. So, grab a face mask, order a takeaway, and pop on a chick flick because here's our guide to the ultimate head‐to‐toe pamper night:
Step 1
Turn off your phone, light some scented candles, and line up a film you've been wanting to watch for ages. Pick out your comfiest pyjamas, and make sure you have a fully stocked snack cupboard. This is a night for you to switch off from the outside world and focus fully on yourself.
Step 2
Start off your pamper night by making sure you're squeaky clean. Use a body scrub to smooth your skin and buff away dry patches on your knees and elbows. If dandruff is a concern, wash your hair using an anti‐dandruff shampoo to clear flakes and relieve dry, tight and irritated scalps. Finish up with a quick hair mask, to leave your hair silky smooth.
Step 3
After a shower or bath, use a body balm to seal in moisture and keep your skin feeling hydrated. The Norwegian Formula Deep Moisture Comfort Balm has the luxurious richness of a cream, but absorbs instantly and doesn't leave a greasy residue. The rich, velvety formula is clinically proven to deliver moisture 10 layers deep in the skin*, making it perfect for dry skin. Ideal for a pamper night, your skin will be left feeling soothed and soft.
*upper layers of the epidermis
Step 4
You've treated your body, now it's time to turn attention to your face. Make sure your skin is clean and cleansed by using a face wash and face scrub. Then, pick out a hydro‐gel mask that's perfect for your skin. Whether you want to detox, smooth, illuminate or hydrate, there's an option for you. Simply peel off the backing, and place the mask on your face. Now you have 15 minutes to move on to the last step in your pamper night…
Step 5
No at‐home pamper session would be complete without a DIY mani‐pedi. Get a basin of warm water, add Epsom salts and a few drops of essential oils, then soak your feet while you start on your manicure. Use some cuticle oil and an orange stick to gently push back your cuticles, and use a nail file to shape your nails. Then, pick out your favourite polish and paint your nails. When you've finished, and you're sure your nail varnish is completely dry, massage in some hand cream. The Neutrogena® Norwegian Formula Hand and Nail cream not only moisturises your skin, but also makes your nails twice as strong, and helps to soften cuticles.
Next, pat your feet dry. If you're painting your toenails then do so now (use a nail file to shape your nails and smooth away any ridges first). Then, when the polish is dry, treat your feet to some intense nourishment with Neutrogena® Norwegian Formula Cracked Heel Foot Cream. This will soothe dry, damaged feet, and helps to repair cracked heels from day 1. Pulling on some socks afterwards is a top tip to make sure the foot cream is absorbed properly. Also, that way you don't get dust and dirt stuck to your toes!
And that's it, your pamper night is complete! Hopefully, all this self‐care has allowed your stress to slip away, and you're feeling relaxed. Spritz your pillow with some lavender spray, and enjoy a night of deep, worry-free sleep.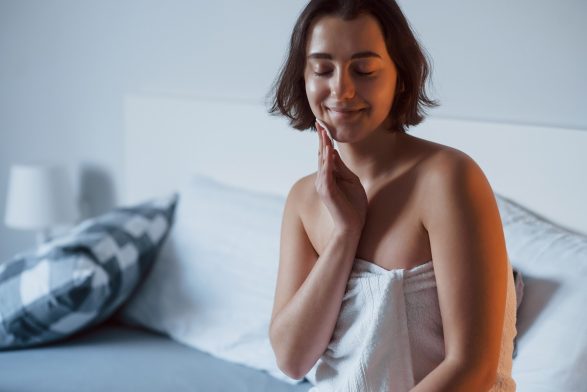 As tempting as it is to just splash your face with some water and fall into bed, that sadly won't cut it when it comes to a night time skincare routine...