You've packed enough sunscreen to cover you for the next year; three outfits for every day, and you've triple checked that your passport is still in your bag. But what about your beauty products? You might normally be a skincare aficionado, but when you're heading off on holiday it can be stressful trying to work out which beauty essentials you really need to take with you, and which you can afford to leave at home. Here's our guide to the travel beauty essentials you need to make sure are in your suitcase this summer:
Makeup wipes
Throw them in your hand luggage for the plane, your bag for the beach, and leave them by your bed for when you get in at night: Make-up wipes are an all-rounder when it comes to skincare on your travels. The Neutrogena® Hydro Boost® Cleansing Facial Wipes are suitable for sensitive skin and glide effortlessly over your face and eyes to remove impurities and make-up. They even remove waterproof mascara, so they're perfect for holidays when you've pool-proofed your make-up.
Body moisturiser
Even if you're guilty of forgetting to moisturise your body for the rest of the year, you'll probably want to do it when you're on holiday and spending lots of time on the beach.
You don't want to spend too long worrying about your skin, though – you're there to enjoy yourself after all. Choose a product that's ideal for being on-the-go, like the Neutrogena® Hydro Boost® Express Hydrating Spray. You can spray it straight onto wet skin as soon as you get out of the shower to lock in moisture. It's non-greasy and absorbs instantly so you can get dressed straight away, meaning you'll spend less time getting ready and more time on the beach.
Moisturiser with SPF
You should be wearing a broad-spectrum sunscreen at all times when you're in the sun to protect yourself from sunburn, premature ageing and even skin cancer. Broad-spectrum means that a sunscreen protects your skin from both UVA and UVB rays. In addition to your regular body sunscreen, why not take the Neutrogena® Hydro Boost® City Shield Hydrating Lotion with you when you're on holiday? This hydrating lotion with SPF25 replenishes skin with an instant shot of hydration, whilst also helping to protect against sun damage. Apply every morning as the last step in your skincare routine. The formula is ultra-light and non-greasy, so it's ideal to use as a base under makeup.
Hydrating moisturiser
Cruising at 30,000 feet can seriously dry out your skin, and when you combine that with sun exposure and saltwater you've got a recipe for a dull, tight complexion.
Renew your skin with the Neutrogena® Hydro Boost® Water Gel Moisturiser, which is quick-absorbing and has a light texture, but intensely nourishes like a cream. With a unique hyaluronic gel matrix, this moisturiser instantly locks in intense hydration and continuously releases it as it is needed throughout the day for smooth, supple skin.
Eye cream
Holidays are all about balance. On one hand, you need to relax and let all your stresses slip away. But on the other hand, when else can you go out and enjoy yourself on a weeknight?
If you're looking like you've not quite caught all 8 hours, then try the Neutrogena® Hydro Boost® Eye-Awakening Gel-Cream, which instantly replenishes the skin under your eyes. Using hyaluronic acid, this eye cream boosts hydration and strengthens the skin barrier, fading away signs of fatigue and awakening tired eyes.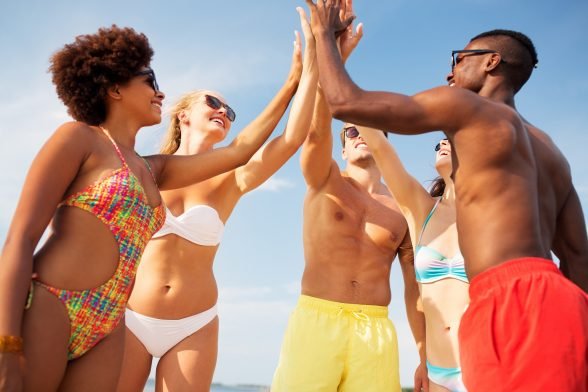 The thought of stripping down to your bikini in front of strangers giving you nightmares? Read on for our tips on how to feel confident on the beach.