You might have noticed that we've been making some changes to your favourite NEUTROGENA® products recently. Here's the lowdown on what's changed, why we've changed it, and how we're working hard to make sure you love our products even more than ever before…
Why have we changed?
Choosing a skincare product can be intimidating: the number of brands, the different shapes and sizes of hundreds of products, all screaming out how they can benefit your skin in different ways… It's a recipe for feeling overwhelmed.
If you've ever ended up not buying anything because you didn't know where to start or bought something and then realised it doesn't even target your specific skincare concern, then you're not alone. Shopping should be fun, not complicated, which is why the team at NEUTROGENA® have been working on ways to make the products easier to understand.
What have we changed?
From speaking to you, our customers, we realised that it wasn't obvious that ranges like Pink Grapefruit and Spot Proofing were actually part of the same NEUTROGENA® family. So, one of the changes we've made is to make sure our brand is visible and prominent on every single product we sell. That way, you'll always know when you're using NEUTROGENA®.
We want to make your experience of buying skincare products easier. To take away the guesswork when you're trying to find something that's going to work for your skin, we've changed the names of our Visibly Clear® ranges. The new platform names make it easy to understand the end skincare benefit. This enables you to choose the right skincare product for your skin type.
We've also changed some of the formulas in a number of products. This is because we pride ourselves on selling products that are not only dermatologically effective (they work!), but also products that are pleasant to use. We're constantly working hard to update our ingredients to continue to give our customers the most effective solutions, and the best possible experience.
Pink Grapefruit → Refreshingly Clear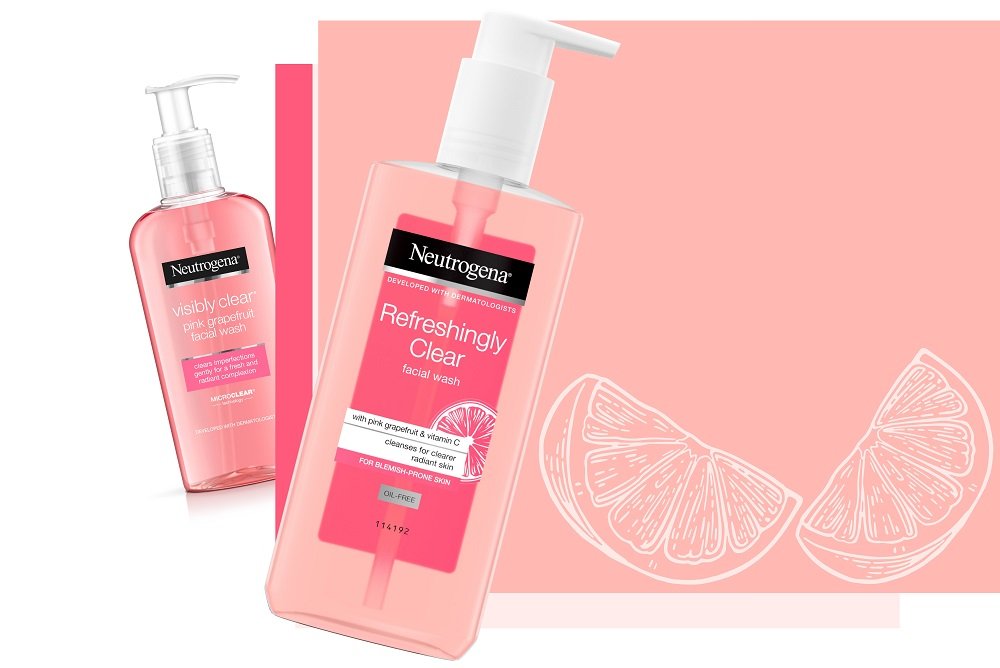 The NEUTROGENA® Visibly Clear® Pink Grapefruit range will now be named NEUTROGENA® Refreshingly Clear and is perfect for blemish‐prone skin. The formula will still contain pink grapefruit, and will continue to have its signature, refreshing scent. We've also added vitamin C for a clearer, more radiant complexion. Oil‐free and without parabens, the facial wash and exfoliator gently cleanse to help prevent imperfections, whilst the moisturiser offers 24‐hour hydration without clogging pores.