You don't need us to tell you that you're beautiful. That's obvious. But no matter how beautiful you feel 99% of the time, that 1% of your year you spend on the beach can be anxiety-inducing. If you can't afford your own private beach, but the thought of stripping down to your bikini in front of strangers is giving you nightmares, then read on for our tips on how to feel confident on the beach:
Stop comparing yourself to others

If you've ever driven yourself to despair by scrolling through your Instagram feed, you'll know how it feels to compare yourself to people you see online. But as we all know deep down, nobody looks exactly how they appear on Instagram. And even if they did, they'd probably still be worrying about their own body hang-ups or skin imperfections. You are unique and beautiful in your own way, so why focus on what other people look like?

Go bare on the beach

Maybe your lack of beach confidence is less about stripping down to your swimwear, and more about stripping back your makeup. Don't feel like you have to go bare-faced if you're not comfortable. But, making sure your skin is looking as healthy as possible can give you the boost of confidence you need to leave your makeup bag in your hotel room for the day. The Neutrogena® Refreshingly Clear range uses powerful MicroClear® technology, and helps to reduce and prevent spots and blemishes for smoother skin and a visibly improved complexion.

Use positive language

When you look in the mirror, are you kind to yourself?

Rather than use negative language, try focusing on the things you love about yourself. Pick out the things that you absolutely love, and write them down. Whether it's your freckled nose or your curvy hips, this exercise will help you to fall in love with yourself again. Try to talk to yourself in the same way you'd talk to your friends or someone you love. Or better yet, exchange compliments between friends, which is the best way to make everyone in your group feel good about themselves.

Invest in the perfect swimwear

This isn't about choosing a bikini that's the "right" style for your body shape, because there's no such thing as right and wrong when it comes to body confidence. All you need to do is find a bikini or swimsuit that you feel good in, and choose some great accessories like a wide-brimmed hat or floaty kimono cover-up. You're much more likely to feel confident if you love what you're wearing! Luckily, there are loads of affordable swimwear options available, so you can feel confident on the beach without breaking the bank.

Look after your skin

Treating yourself to a pamper before you hit the beach could help you to feel more confident once you're in your bikini. The skin on your body deserves to be looked after just as much as the skin on your face. Try using a body scrub to buff away dry patches, then follow it up with a body moisturiser. The Neutrogena® Hydro Boost® Body Gel Cream contains hyaluronic acid, which is a super hydrator capable of holding 1000x its own weight in water. Ultra-light and refreshing, the formula is perfect for taking on a summer holiday and helps to lock in skin's moisture and continuously release hydration when it's needed throughout the day.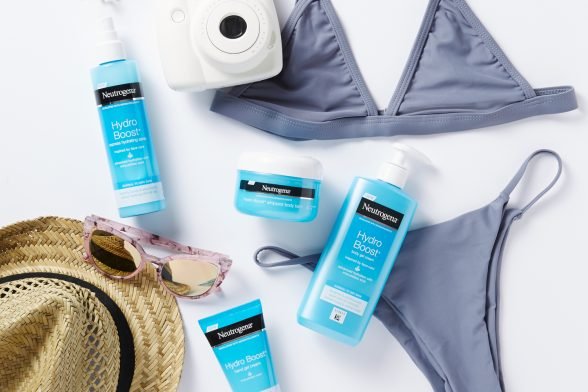 Here's our guide to the travel beauty essentials you need to make sure are in your suitcase this summer.